SIV in the cars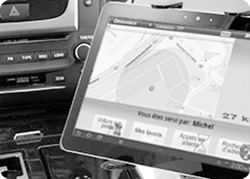 The computerized vehicle system (SIV) allows an efficient operation of your fleet of vehicles. Whether it is for cab companies, service cars, police cars, restaurant delivery and convenience stores, a tablet in a vehicle allows the user to receive information, search for routes, etc.
The software was initially developed on the Windows™ operating system. With the advent of touch tablets on the market, our software developers adapted the SIV to also run on the Android™ operating system. Thanks to the native components built into touch tablets and Android™, the SIV coexists with GPS and cellular data transmission modules, Google Maps™, etc.
Cabs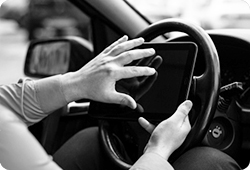 A leader in the cab industry, the SIV is currently implemented in more than thirty cab companies throughout Quebec, allowing the management of a fleet of more than 3,500 vehicles.
The SIV integrates perfectly with the activities of a cab, including paratransit, school transportation and public transportation.
There are a number of advantages to using the SIV in your fleet of vehicles :
monitor the GPS positioning of vehicles at all times ;
Automatically dispatch service calls without the use of radio waves ;
Maximize mileage with pre-set routes ;
re-evaluate routes based on unforeseen events such as traffic jams, etc. ;
management of waiting zones and service areas ;
GPS track records and driving statistics ;
Internet sharing to car occupants (affiliated modem).
At your office
The system also includes the component for your office that manages the fleet of vehicles. Powered by the Windows™ operating system, the software does automatic dispatch of service calls, but also geographic map positioning, status management (e.g. free, busy), statistics compilation and much more.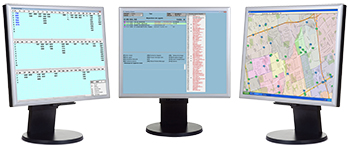 The SIV system is constantly being developed to meet the specific requirements of your business. Our IT team is developing the computerised vehicle system to meet your needs.